Now Showing:

Sailor Pete
installation by Sassy Park & Mara Schwerdtfeger
as part of The Australian Ceramic Association exhibition,
Ceramix,
14 May - 20 June 2021
Manly Art Gallery & Museum, Sydney
curated by Sophia Cai

Sailor Pete film still, 2020
Kings Cross, Sydney
Out of the darkness: A survivor's journey
The exhibition tackles the issues of the trauma experienced by survivors of child sexual abuse and the need for compassion and support within the community for people dealing with the consequences. It shows how art can be used both as a way of processing trauma and as a form of activism against injustice.
1 May - 1 August 2021
Art Gallery of Ballarat, Victoria
curated by Robert House

Pell in Purgatory 2020
ceramic and lustre
24 x 8.5 x 8 cm
Muswellbrook Art Prize
- Winner of the ceramics prize

Exhibition: 7 March - 2 May 2021, Muswellbrook Regional Art Centre, judged by Lauretta Morton, Director of Newcastle Art Gallery


Apothecary Jars 2021 (detail)
terracotta, slip, glazes including majolica and hand painting technique
28 x 75 x 35 cm
Past Exhbitions:

EZY ART SHOW 2
Group exhibition
26 Feburary - 7 March 2021
Curated by Brodie Cullen
304 Liverpool Street
Bill Callahan 2021
glazed ceramic
21 x 11 x 15 cm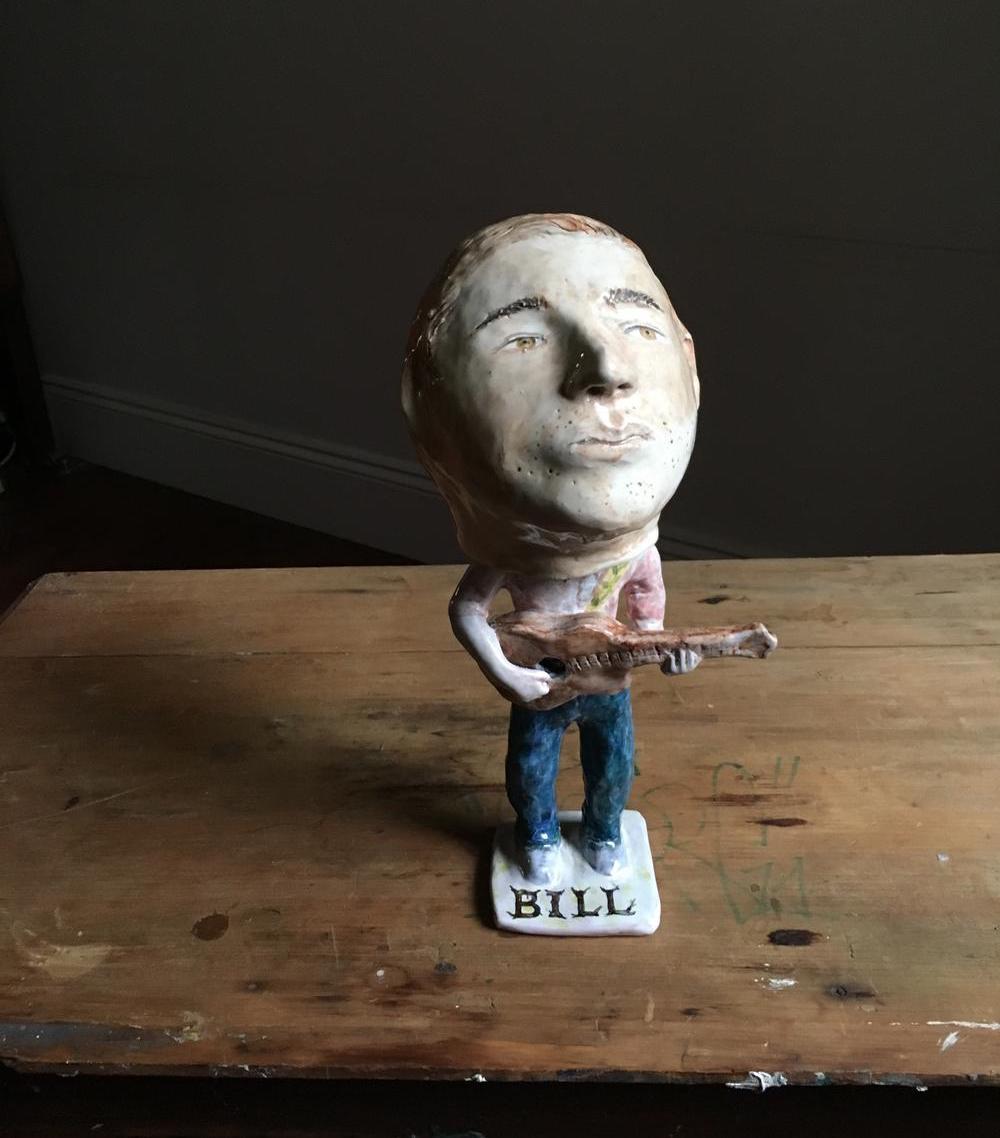 Meroogal Women's Art Prize 2020
- 2nd Prize
Meroogal, Nowra, N.S.W.
Exhibition: 19 September 2020 - 17 April 2021
Garden Play Set 2020
ceramic, wood (found object)
26 x 35 x. 35 cm
Finalist in the inaugural National Small Sculpture Awards 2020, McClelland Sculpture Park + Gallery, Langwarrin VIC
Men's Double (Tennis) 2020
ceramic, cement
37 x 31 x 16 cm